Since I'm from the Czech Republic I've decided to create this section about Czech movies I like and that are in my opinion the best because one should be a litlle patriotic from time to time ;-).


Source:http://joycord.tumblr.com/tagged/Kytice
For the first entry I've chosen a 2000 movie based on a collection of ballads by famous Czech writer of the 19th century Karel Jaromír Erben called "Kytice" aka Wild Flowers . The producers'd opted for 7 stories they included in the movie - Wild Flowers, The Waterman, The Wedding Shirt, The Noon Witch, The Golden Spinning Wheel, The Daughter's Curse and Christmas Eve. The segments last around 10 minutes each and are depicted and connected as 7 candles that are gradually being put out as they end.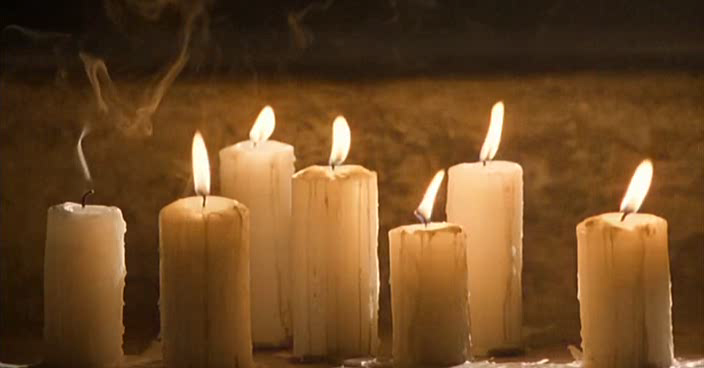 You could call the movie a real collection of visual poetry, 7 tales linked together by folklore, mood, colour and light because the movie is a masterpiece of cinematography, stunning locations, costumes and music. I've seen many films in my life from the North America, Europe and Asia alike but I've never met anything that could compare to it. It stands out on its own.
BEWARE SPOILERS!!!
[
Spoiler (click to open)
]
It recieved multiple Czech Lion Awards (awarded by The Czech Film Academy aka the Czech Oscars - they have Goyas in Spain, Césars in France and we have Lions).
1. WILD FLOWERS (Kytice) - The prelude segment after which the whole collection is named tells of three orphans that were left alone in the world after their young mother died. However, after seeing their grief the mother felt sorry for them and her spirit came back as the bed of wild flowers that grows on her grave thus giving comfort to her desolate children.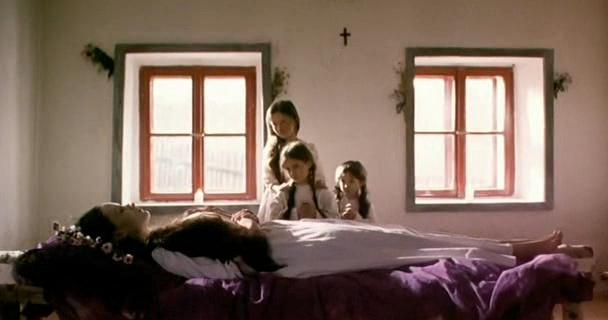 2. THE WATERMAN (Vodník) - The Waterman living in a lake is singing to the moon, sewing a green coat and red boots for his wedding. A mother warns her young and beautiful daughter not to go to the lake, despite her warnings the daughter is drawn to the lake and goes there to do her laudry. However, the bridge on which she was sitting collapses. As the water closes above her, the Waterman gives her the ability to live under water and marries her. A year later they have a child and seem to be happy together nevertheless she is missing her mother so her husband who fell in love with her lets her go to visit her for a day. The mother is beyond happy to see her but when her daughter wants to return she doesn't allow her and prevents her from going even when the Waterman comes for her...
Source:
http://joycord.tumblr.com/tagged/Kytice
3. THE WEDDING SHIRT (Svatební košile) - A story about a woman whose fiancé left for war and she's been sewing him shirts for their wedding. One day he comes back and takes her with him so they can be married but on the road it becomes clear that he's no longer the man that she fell in love with - he is dead and became a spectre...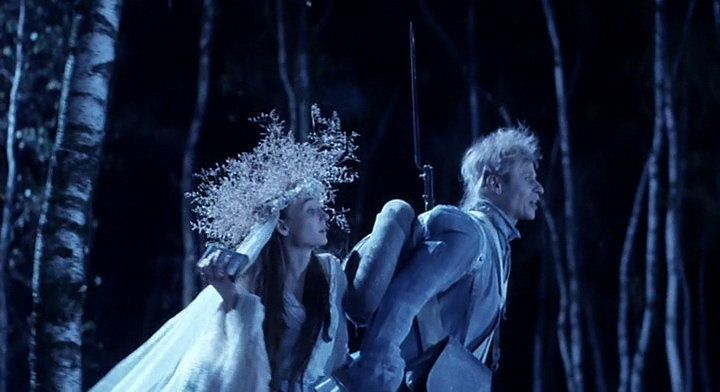 4. THE NOON WITCH (Polednice) - The Noon Witch re-tells a classic tale of a spirit who appears on hot summer days and makes misbehaved children disappear...
Source:
http://joycord.tumblr.com/tagged/Kytice
5. THE GOLDEN SPINNING WHEEL (Zlatý kolovrat) - A king is riding through his kingdom and meets a young beautiful girl, Dornička, and immediatelly falls in love with her. He orders her step-mother to bring her to his castle so he can marry her. However, while on the way the woman with her own daughter who looks exactly like Dornička murder her, cut off her feet and hands and carve out her eyes. Then the step-sister poses as Dornička, marrying the king. Meanwhile, in the forest, a mysterious magician finds the poor girl and decides to bring her back to life, therefore he sends his son to the castle to trade two feet for a golden spinning wheel, two hands for a golden distaff and two eyes for a golden spindle. When the king comes back from a journey he learns fro,m the golden spinning wheel the terrible story of Dornička's murder. He leaves at once to the forest to search for her...
Source:
http://joycord.tumblr.com/tagged/Kytice
6. THE DAUGHTER'S CURSE (Dceřina kletba) - A tale of a homely and mentally ill girl who finds love one night with a drunken man. Her old mother takes pity on her and allows her the indiscretion. However, the daughter gets pregnant and fearing what people might say kills the baby. She has to pay for her crime on the gallows. When her mother asks her what are her last words to her who cared and loved her whole life, the daughter tells her that she bequeaths her mother a curse, a curse for she allowed that to happen.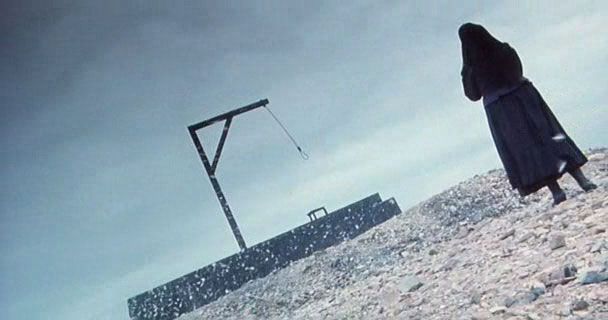 7. CHRISTMAS EVE (Štědrý den) - The last ballad completing the story of life and death tells of young women's hopes for future while the old are prepared to accept their fate...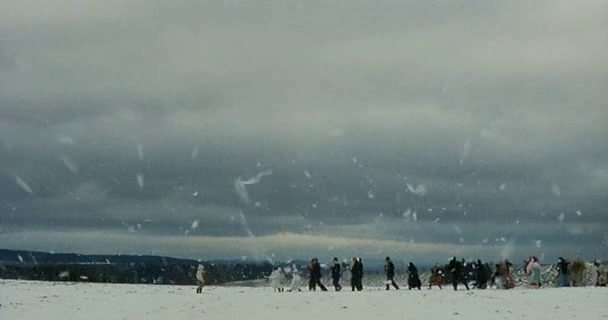 Enjoy and let me know what you think about it :-)!!!