THE
NEXT
INSTALMENT
OF
THE
JOSEON
ROYAL
SAGA:
THE
CHILDHOOD
ROMANCE
OF
JANG
HEE
BIN
AND
KING
SUKJONG
IT
ALL
BEGAN
BECAUSE
OF
A
RACY
ROMANCE
NOVEL
This show owns my heart! Episode 1 was awesome! And I've just watched episode 2. I admit I had trepidations about the childhood portion, however, it ended up to be the best executed childhood episode I've ever seen in a drama. Sweet, funny, witty,, engaging, thrilling and gut-wrenching at the same time! The child actors are great both together and on their own, the yeven bear certain likeness to their adult counterparts, particularly the boy gave a very strong performance. Plus it's great to see the bromance between the cousins going already in their childhood
.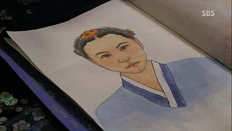 [
Spoiler (click to open)
]
I admire the writer and the PD how much plot they managed

to get in just 1 hour. About the writer I noticed that wherever
I look the writer mentioned is Choi Jung Mi which is the name
of the author of the original novel so if she is indeed

one and the same person I have to express my absolute
admiration for her writing skill because the type of
script she's been presenting thus far is of the highest
quality and the other more experienced writers

should learn from her. Maybe the her refreshing writing is the
cause why I'm also enjoying the palace/political

intrigue of the elders because in other sageuks those are

exactly the times when I kind of always tend to black out .



The first time LS and JOJ meet is when they are

shopping for a romance novel! LOL! And , of course,
since this particular genre is so high on demand they
end up arguing about the last
available copy! Naturally the girl wins! Double LOL!
If I weren't already irrevocably in love with this show

they would have caught me there.
Her sachet gets stolen and he wants to show her who

is the man. Well, it doesn't turn according his plan. One
thing is to beat your cousin in a spitting competition
another is to beat a group of street
thugs with your spit.
While they are running from the gang they end up between

a rock and a hard place in a street melee! It's a great

opportunity for a first dance, though.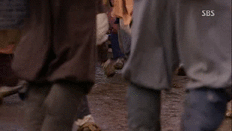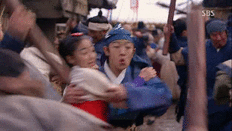 They a hide in a small mill and LS is hit by a rush


of teenage hormones
for the first time in his life
which keeps him ahem... awake through the night! LOL!


And he gets caught "red handed" by his manservant!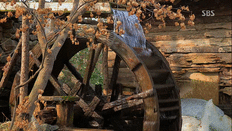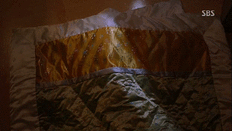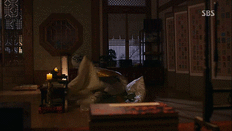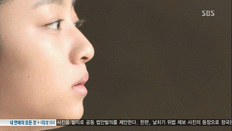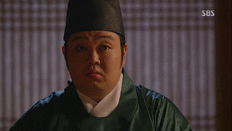 However, he still manages to get a 2nd date under

the guise that JOJ must repair his ripped sleeve.
He ain't losing any time - first, he steals a kiss
although it's cut short by a flock of unromantic hens,
and as he is obviously a man of high moral standards

proposes shorthly theafter! LOL!!!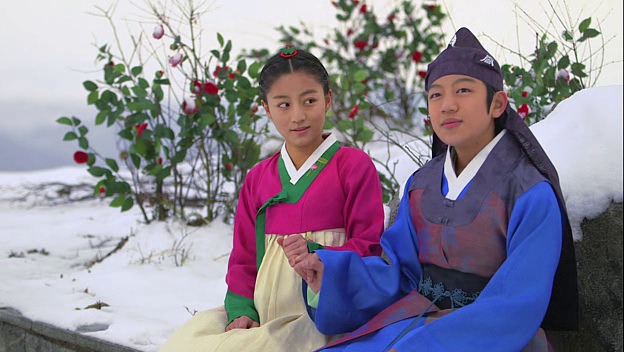 So they get themselves engaged, however, their happy

married life is postponed because LS likes to hang around

in a cold pouring rain like every proper Korean male lead!
The ending of the episode hits all my kinks of an historical

romance addict! I've been replaying this part over

and over again the whole day and I love the instrumental

piece to bits! It's inspired, emotional, epic and fateful

at the same time. I'm going down with this ship!